Since the conclusion of the 2016 parliamentary election, a one Habib Buwembo has been investigating the academic qualifications of Rubaga South Constituency MP, Hon Kato Lubwama.
According to Buwembo who says he is a registered voter in the Rubaga South Constituency, "Kato Lubwama's qualifications as a Member of Parliament have been questionable from day one".
Now, Buwembo's investigations have culminated into three damning letters which Campus Bee has seen. The letters are from from Makerere University (MAK), National Council for Higher Education (NCHE) and Uganda National Examinations Board (UNEB). When read together, these letters cast doubt on Lubwama's eligibility for election as a Member of Parliament.
Campus Bee has spent considerable time studying the documents of Buwembo's protracted investigations and now exclusively reveals the details.
Through these letters, it appears that Lubwama used a different name to sit for UCE, a different name to be admitted to MAK in 1992, and a different name to contest for Member of Parliament.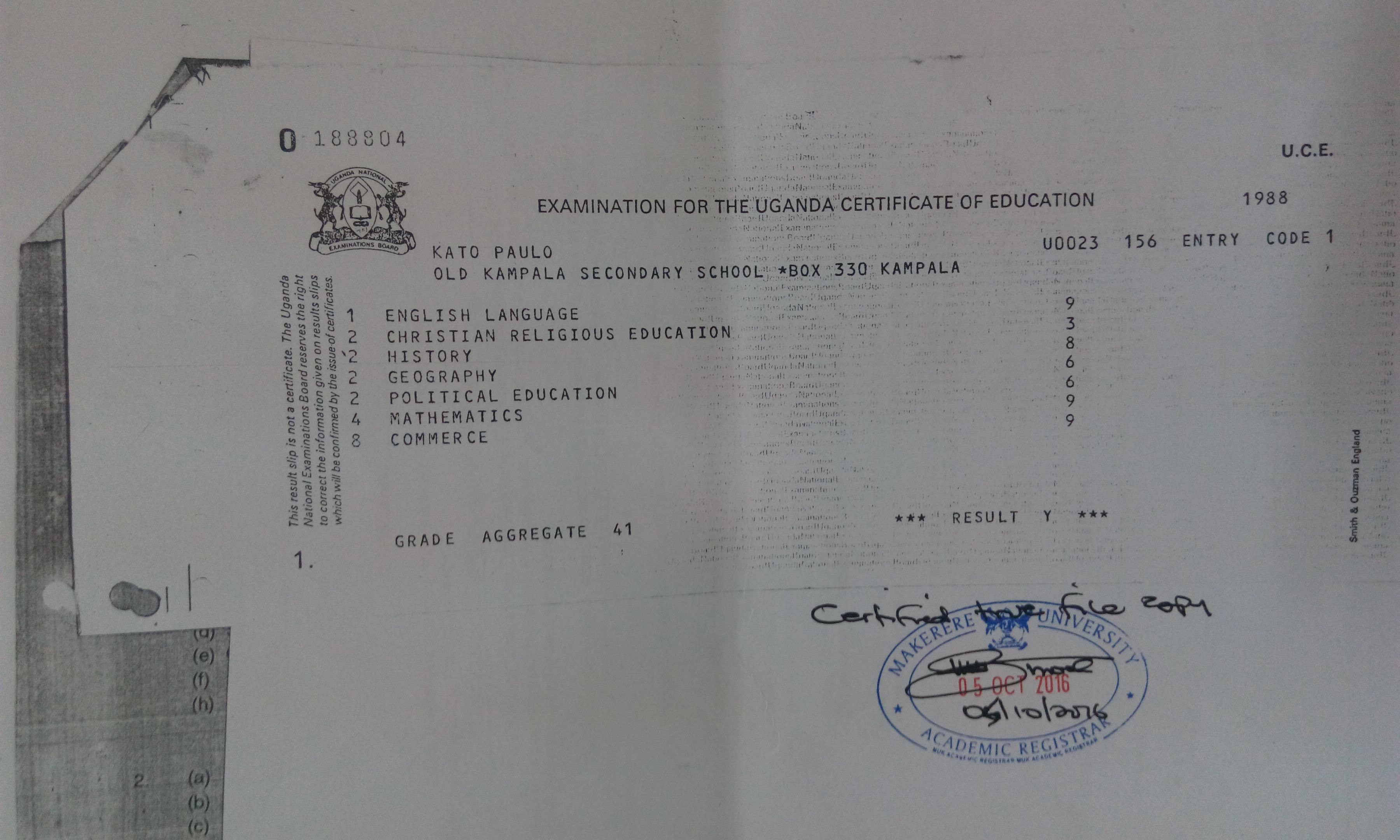 ACCESS TO INFORMATION REQUESTS
Earlier in August 2016, Buwembo said he had finally got legal help to pursue formal investigations following several failed informal attempts to get information from the relevant bodies, Buwembo dispatched a number of Access to Information requests to various institutions asking for clarification about Lubwama's academic standing.
These requests were sent to Old Kampala Secondary School where Lubwama sat his S.4. exams, NCHE, UNEB, and MAK where Lubwama got his Diploma in Music, Dance & Drama (MDD), among others.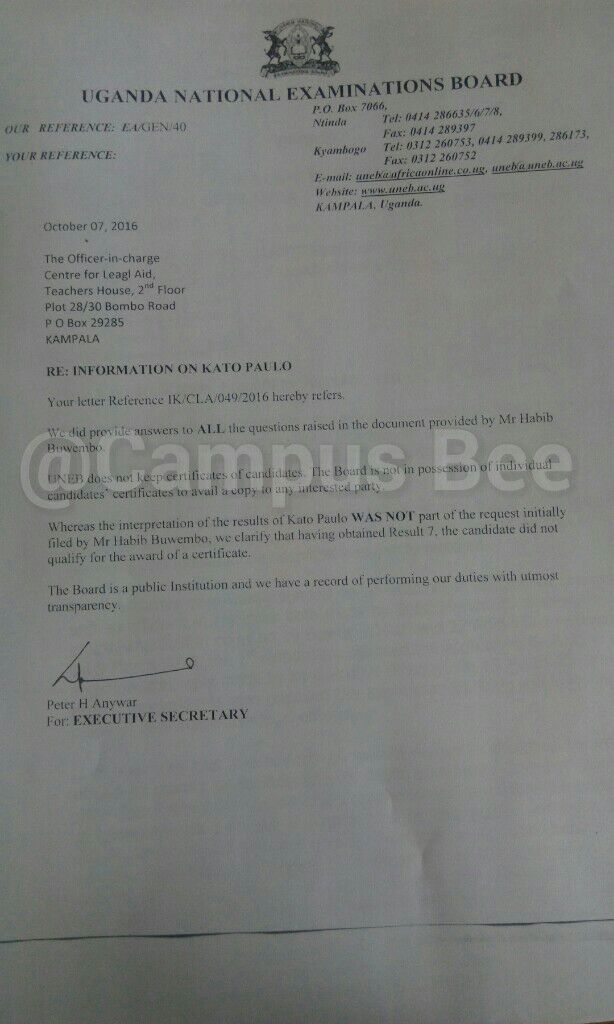 On August 29, 2016, Buwembo delivered an access to information request to NCHE seeking for documents certifying Lubwama's formal education of Advanced Level Standard (UACE).
"Kato Lubwama Paul" is the name Kato Lubwama submitted to the Electoral Commission (EC) in December 2015 for nomination as an MP. On August 31, NCHE's Executive Director Prof. Opuda-Asibo J. replied, saying they had never issued a UACE certificate or its equivalent in the names of "Kato Lubwama Paul".
On 15th September, Buwembo delivered to NCHE another request for the UACE results of "Kato Lubwama," this time omitting "Paul" from the name. Prof. Opuda-Asibo replied on Sept 22 asking Buwembo to refer to NCHE's letter of August 31 – indicating that they had not issued any UACE certificate in the names "Kato Lubwama" either.
On  September 16, 2016, Buwembo delivered a request to Makerere for information relating to the UACE certificate which "Kato Lubwama or Lubwama Kato" relied on to be admitted for the diploma. The request made it clear that the Lubwama Kato whose information was being sought is the current MP for Rubaga South who had relied on the Diploma in question for nomination as an MP aspirant.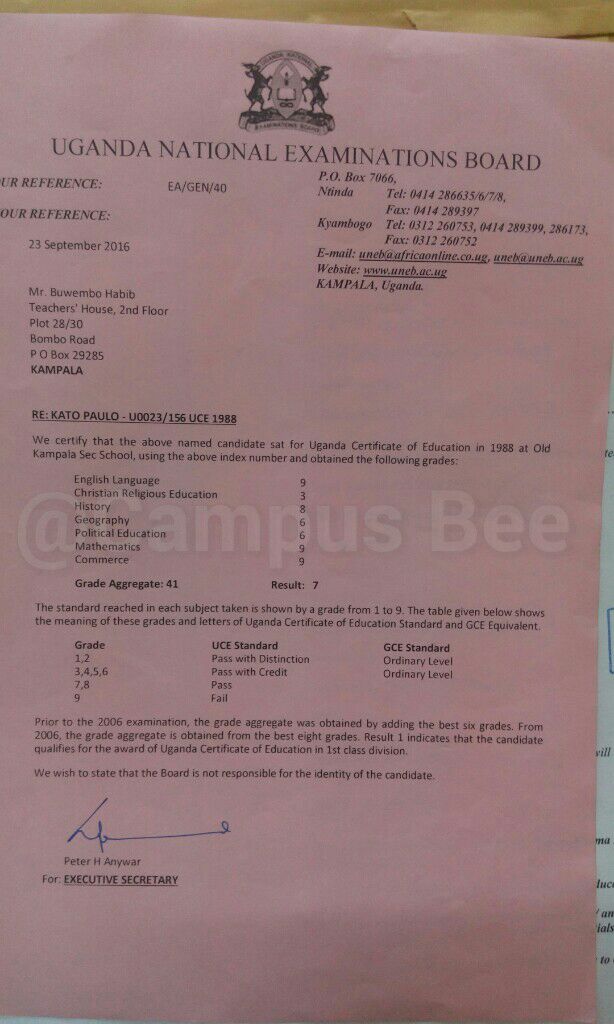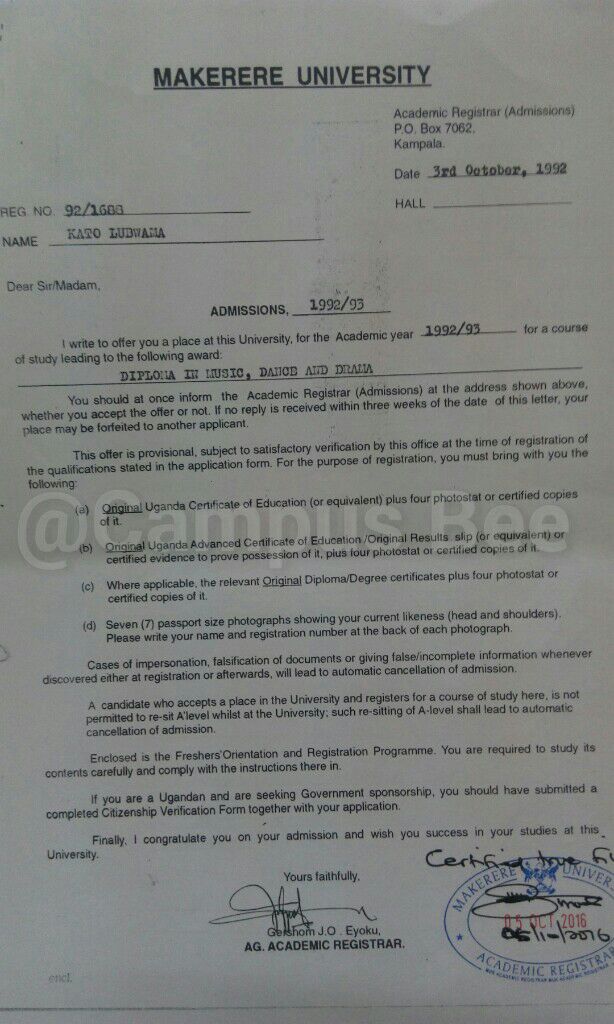 On Oct 7, 2016, MAK's Academic Registrar Mr. Alfred N. Masikye responded to Buwembo's request with a bunch of documents which included Kato Lubwama's application forms and a certified copy of his MDD Diploma.
These documents revealed that a one "Kato Paulo" applied and was admitted to Makerere in 1992 for the Diploma in MDD that was awarded to "Lubwama Kato" on  January 20, 1995. Attached to this letter was also a copy of UCE Certificate U0023/156 in the names "Kato Paulo", serial number 188804, which Kato Lubwama relied on to apply for admission.
Also part of these documents was a copy of Kato Lubwama's application for admission to the Diploma in Music, Dance & Drama which he made on 25 March 1992 under the names "Kato Lubwama". In this application, he claimed to have sat for Chemistry and Physics for UNEB in S.4. but these subjects appear no where on "Kato Paulo's" UCE certificate.
O'LEVEL RESULTS
The subjects recorded on Kato Paulo's UCE Certificate and their corresponding results as confirmed in a September  23, 2016, letter to Buwembo from the UNEB Executive Secretary are: English (9), Maths (9), Political Education (6), Geography (6), History (8), Commerce (8), and C.R.E (3); Grade Aggregate 41, Result 7.
On November 24, 2015, Kato Lubwama tendered to the Electoral Commission, a "Letter of Verification of Results" signed by the Executive Secretary of UNEB, in which the same results as those on UCE Certificate U0023/156 are indicated.
Still on the same application for admission, in the field where Lubwama was supposed to fill results for his UACE "or its equivalent," Kato Lubwama claimed that he sat for History, Geography and Economics at St. Francis Secondary School (1989-1990) "but did not complete".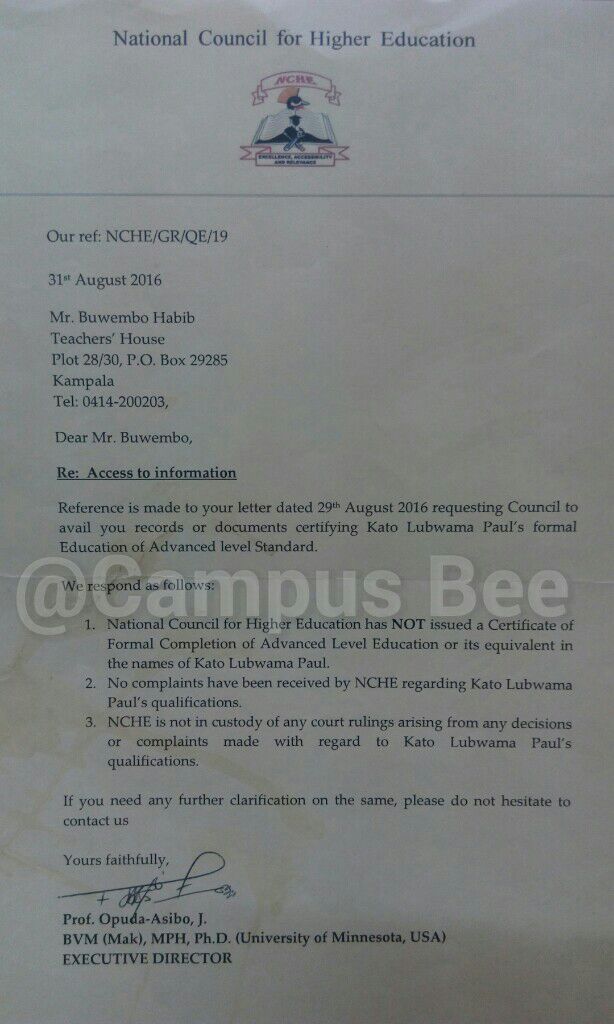 In the field where he was required to indicate whether he would be paying his own tuition or he was applying for a bursary, he put "Government funds." It is not clear whether he was applying for Government sponsorship or he meant that he had already secured it. The legible part of Lubwama's signature on his March 1992 application documents appears to read "KATO PAUL".
Anyways, on  October 3, 1992, MAK formally offered Kato Lubwama admission in the name "KATO LUBWAMA" for the Diploma in MDD, through an admission letter signed by Gershom Eyoku, the then Academic Registrar. According to that letter, the offer for admission was provisional, subject to fulfilling certain conditions. One of the conditions was that Kato Lubwama brings the originals of both his UCE and UACE results slips or certified evidence of it "to prove possession of it" before his admission could be confirmed.
This admission letter also had a clause stipulating that "Cases of impersonation, falsification of documents or giving false/incomplete information whenever discovered either at registration or afterwards, will lead to automatic cancellation of admission."
It is not clear how or why Makerere admitted Kato Lubwama despite the contradiction in names and the apparent fraud on his application papers. There is no other proof attached that Makerere sought and/or was given a valid explanation by Kato Lubwama for the disparity in names between that of the applicant and that on the UCE certificate, or for the Physics and Chemistry papers which he claimed in his application to have sat for in S.4.
UNEB SPEAKS OUT
On September 25, 2015, Lubwama made a Statutory Declaration (SD) in the name KATO PAULO LUBWAMA. In this SD, he owned up the different names on his academic documents. "KATO PAULO, LUBWAMA KATO and KATO LUBWAMA are all my names which are used to refer to one and the same person, being myself as the holder of the documents referred to above," reads part of his SD. The legible part of his signature on this SD appears to read "KATO LUBWAMA".
In the "Statement under oath by person to be nominated as a parliamentary candidate" that "Kato Lubwama Paul" submitted to the Electoral Commission on December 2, 2015, he declared his education qualifications as "Diploma in Music Dance and Drama". He did not state any other qualification. It is this Statement in which he accepted nomination as an MP aspirant.
Art. 80 (1)(c) of Uganda's Constitution requires an aspirant for Member of Parliament to prove that he/she has completed a minimum formal education of Advanced Level standard [UACE] or its equivalent. Can the Diploma Kato Lubwama got from Makerere be considered as equivalent to UACE? If yes, why did Makerere require Kato Lubwama to bring his "original UACE results slip or certified evidence of it" before they could confirm his admission and register him as a student in 1992?
The defining moment in Buwembo's investigations was on 10th Oct 2016 when he received a letter from UNEB dated October  7, 2016 and signed by one Peter H. Anywar for the UNEB Executive Secretary, one paragraph stands out in this letter. "HAVING OBTAINED RESULT 7, THE CANDIDATE [KATO PAULO] DID NOT QUALIFY FOR THE AWARD OF A [UCE] CERTIFICATE." This was in reference to a letter written earlier by Buwembo's lawyer seeking for clarification on whether a candidate who got result 7 was eligible for a UCE Certificate.
The logical inference from UNEB's letter of October 7 is that whatever subsequent academic qualifications Hon. Kato Lubwama may have gotten while relying on Kato Paulo's UCE certificate U0023/156 of 1988 cannot be valid. Any UACE Certificate he may possess is invalid. His 1995 Diploma in Music, Dance and Drama is invalid. And so was his nomination as a Member of Parliament in the 2016 parliamentary elections.
Asked for his next course of action, Buwembo did not mince his words. "I am going to petition Court to have him thrown out of Parliament."
However, whatever intentions Buwembo may have regarding throwing Kato Lubwama out of Parliament on the basis of his discoveries are already time-barred. The general rule under Section 61(3) of the Parliamentary Elections Act, 2001 stipulates that a petition challenging the election of an MP must be filed in Court within 30 days after the winner's name has been gazetted by the Electoral Commission. It is around six months since Kato Lubwama was gazetted.
However, if the petitioner can demonstrate to Court that they had a reasonable justification for not filing within the standard time, the law empowers Court if satisfied by those reasons to allow such a petitioner to file out of time.